ColorWheel Gallery – 319 W 46th St. (46th & Grand) Mpls, Mn. 55419
#612 823 5693
Experience the ColorWheel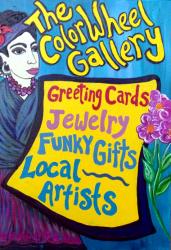 *Speaking with Diverse Voices, the ColorWheel Gallery aims to make Art Accessible to Everyone, to Promote Local Artists & offer Inspiration to Create more Vibrant Communities*  The Color Wheel Gallery has a comfortable boutique style environment, featuring Tammy Ortegon's vibrant, folk art style along with many other local, established & emerging artists. The gallery Features 3 specially themed Exhibits a year, "Fight like a Mother!" (mother's day weekend), Summertime Celebration (different theme each year) & a Holiday Bazaar (1st weekend in Dec.) plus, other special events, community art making workshops & classes. The gift shop boutique carries an always changing, variety of locally made, hand crafted & one of a kind items – Locally made soaps, body products, incense, perfume oils, handmade & retro jewelry, unique greeting cards & art prints, Frida Kahlo & mexican folk art style icons, funky, global inspired treasures, gently used social justice books, gently used global fabrics, scarves & clothing. Re-purposed, recycled, inspired collectables & décor.  The gallery carries many items focusing on progressive ideas, diverse voices & social change.
We believe that art should be accessible, affordable & inspirational to everyone!  Local Artists * Funky Gifts * Global Inspired Treasures * Diverse Voices * Social Change * Sustainable Found Treasures
About Tammy Ortegon, Creator and Curator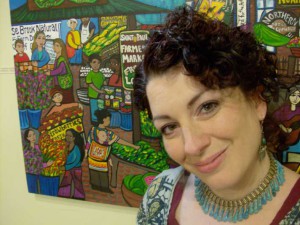 "I consider myself a Folk Artist & I believe Folk Art is created By & For the People. For the last 25 years I have created & worked on many community projects thru out the Twin Cities, public art murals, festivals & art related events. My Passion is Inspiring people to Create Together more Vibrant & Just Communities while Building Bridges of Understanding thru the arts. For 16 years I have run the ColorWheel Gallery in South Minneapolis that features my art, along with many other Local Artists. With art exhibits, special events, classes & inspiration, the ColorWheel Gallery aims to make Art Accessible to Everyone, by focusing on Community Building, Diverse Voices & Social Change!"
Tammy was a founding board member of 'Women Create' (women's artist collective) & 'SMARTS' (south mpls arts business association) & was awarded 'The Spirit of Powderhorn' at the Powderhorn Art Fair in 2001, 2004 & 2007. +In 2004 she was commissioned to create 2 murals working with local youth & has volunteered many hours on other mural projects. +Murals painted by Tammy Ortegon can be seen at: Corcoran Neighborhood Center 34th & cedar, Peter PanCleaners 38th & grand, Sister's Camelot bus (organic, mobile food share) & on the electric utility box on 38th & Portland +Tammy's paintings are in the collections of: the Brian Coyle center, University of Minnesota (Comstock Hall), University of Mn Fairview medical center, Fairview Crosstown Clinic, University of Mn. Amplatz Children's Hospital, the Seward Co-op & in the homes of many supportive fans & collectors.